To the blog that is…I never left the farm! In fact, I was probably on farm more hours last year than any previous year, since I was home with baby Emma and had the farm's employee, Michelle, making the vegetable deliveries to the GTA all season.
So, having a baby and managing the farm during the wettest and coldest season ever, was a challenge. I was super lucky to have found an amazing farm employee in Michelle. She's the reason why vegetable CSA members still got vegetables for the whole season, despite our many challenges in the field. A short list of challenges…the soil was almost always too wet to till, so we ran out of bed space to plant vegetables. Michelle had to give up maneuvering space and plant right into paths and between row cover trenches. The vegetables took forever to grow because they were so stressed from cold and wet. It probably rained on average 5 days out of every week, so poor Michelle was almost always wet. Production was down for almost every crop except lettuce heads, fennel and kohlrabi. Eggplants and sweet peppers were a complete bust, as were many of the winter squashes. I was very happy to come to the end of October and wish good riddance to the growing season of 2017. Thank you to 2017's vegetable CSA members for eating so many leafy greens 😀
I'm definitely looking forward to getting back into the field this year, though with Emma still being so young, I'm planning to hire part-time help to make sure everything is planted, weeded and harvested as needed. I haven't made any big changes to the vegetable field for this year and will be mostly trialing the same varieties I picked to trial last year as 2017 wasn't the best year for any plant to shine. As usual, I'm super glad that I do grow so many different things or 2017 might have been a complete bust.
The big changes that happened in 2017 (other than there being a new human member added to Black Sheep Farm!) were in capital infrastructure, with the fencing of the south end of the farm (January 2017), and the building of a structure on top of the cement pad so that portion of the barn foundation is finally roofed again (November 2017). Filing my taxes for 2017 will be fun, with my lowest income and highest costs since moving to the farm ;P But it was time. The fence gave peace of mind for keeping the sheep contained (there's no way I could run after sheep while carrying a new baby) and the new building means the barn foundation will stop rotting (and now really bad bits can be replaced). And it also means I'll be putting in a proper cold room for vegetable storage this year. Construction should be completed before spring (thanks Skyler ;P).
New south fence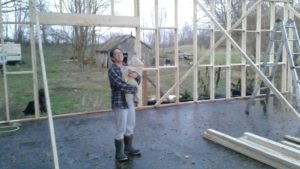 Emma and I looking at the framing of the new barn building.
Will I also be better at writing blog posts in 2018? I certainly having a long list of topics I'd like to write about, but we'll have to see. The farm animals and vegetable production take priority over writing about the farm, and Emma takes priority in terms of life, so here's hoping there will be time enough for all that is truly important 😀
This is the story of my journey into sustainable agriculture. From the streets of downtown Toronto, to the farm land of southern Ontario, I hope to discover the techniques and practices that work for me in both mind and heart.